We are committed to helping the ones who others have forgotten about. That desire to come alongside and partner with forgotten communities has lead us to Ghana, Haiti, and North St. Louis.  Together with community partners, religious leaders, and local and national government organizations we develop deep relationships in the communities we serve.
Yendi is in the Northern Region of Ghana. The Yendi Municipal Hospital serves over 250,000 people and routinely falls well below leading health standards.  
Sefwi-Bewkai is in the Western Region of Ghana.  The Sefwi-Bekwai Health Center, provides medical, maternal, and child clinical services for the entire Bibiani Ahnwiaso Bekwai Municipal, about 180,000 people.
The CHIDA Clinic is located on the northern border of Haiti, near Cap-Haitien. Through relationships with by BraceforImpact46 and the Pittsburgh Kids Foundation the CHIDA clinic serves all families and the IDADEE Children's Home in the local region.
St. Louis, Missouri is where we serve at home in the United States.  Mission:318 helped establish a primary care clinic in critical need alongside Mercy Hospital.  We also   provide medical screenings at various events in St. Louis.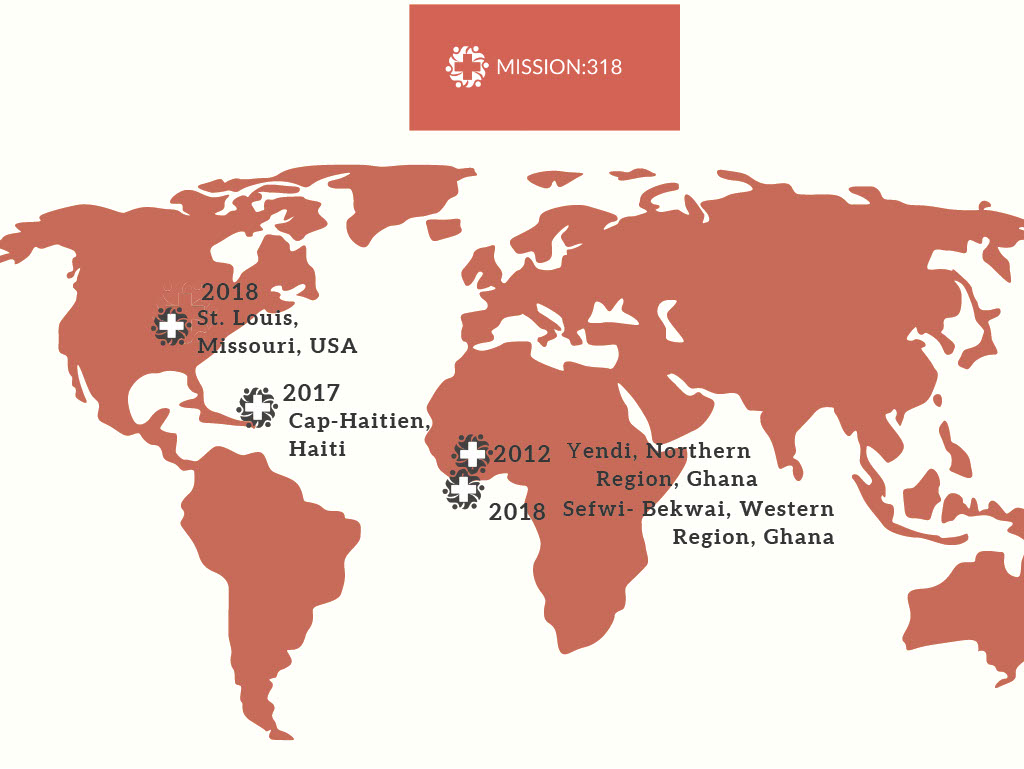 At the core of MISSION:318 is our heart for partnerships. Those partnerships are what differentiate MISSION:318 from many other medical mission organizations. While we have many amazing partners, both stateside and international, our main partnership is with a rural hospital in an often-overlooked region of northern Ghana—Yendi.
We've partnered with a regional hospital in Yendi to help provide healthcare to Northern Ghana. Serving over 250,000 people, the hospital and its staff are stretched thin, usually operating beyond their capacity.
Learn more about how MISSION:318 has stepped in to help provide resources and expertise to Yendi Hospital.
With a local population of 570,000, Sefwi-Bekwai is located in the Western Region of Ghana, a region with the highest prevalence of malaria in children under 5, with 27% of children testing positive for malaria. Educating women about the risks of malaria during pregnancy – a major public health concern in Ghana, and about interventions, such as the use of insecticide-treated bednets (ITNs) and Intermittent preventive treatment of malaria in pregnancy (IPTp) is critical to the health of the community. With support from Community Based Health Planning Service (CHPS) clinic, Mission:318 has begun efforts to improve local, maternal and child health services in the Sefwi-Bekwai Maternal Clinic.
Our Impact: Mission:318 staff provided breastfeeding and infant rehydration education as well as treatment for communicable diseases such as malaria, worms (Schistosomiasis), pneumonia, and bacterial infections. Clinical staff developed treatment plans and coordinated care for chronic diseases. Additionally, structural, functional, and medical needs for community maternal health care clinic were assessed for future support.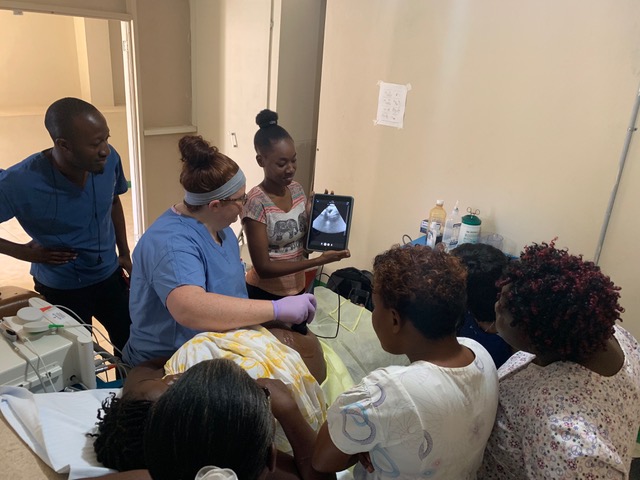 Along with our primary partnership in Yendi, we also serve the CHIDA Medical Clinic in Cap-Haïtien, Haiti. This clinic serves over 1000 children and adults in a region that is often overlooked. Dr. Wyslyn Avenard is the rockstar doctor that serves the region so faithfully.
Each year a team of dedicated MISSION:318 doctors and nurses come alongside Dr. Wislyn to do well and critical care visits. Because of our strong relationship, Dr. Wislyn has been able to come to the St. Louis region for further training.
In 2018, the political crisis caused many public health facilities to be shut down due to shortages of supplies, life saving therapies, and human resources for health. The CHIDA Medical Clinic in Cap-Haïtien, funded by the not-for-profit Pittsburgh Kids Foundation, serves over 1000 children and adults to fill the gap for a region that is often overlooked. Through our trusted partnerships with Brace For Impact46 and the Pittsburgh Kids Foundation, Mission:318 delivers medical and surgical care through well and critical care visits alongside Dr. Wislyn Avenard, who serves the region faithfully.
Our Impact: In 2021 and early 2022, Mission:318 provided life-saving medical care in both Cap Haitïen and in St. Louis for a critical CHIDA hospital nurse, in charge of outreach programs throughout Cap HaÏtien. Our teams assessed, consulted, and recommended medical and surgical infrastructure improvements for PKF and Brace For Impact46 for the CHIDA Hospital. Additionally, Mission:318 brings Dr. Wislyn Avenard to St. Louis to further his medical training.
We love serving with our partners in Ghana and Haiti, but we recognize that there are also people closer to home who are in need of quality healthcare. In parts of our hometown St. Louis, the cost and availability of medical treatment put healthcare out of reach for many living in poverty.
We are excited to partner with The Tabernacle Community Development Corporation to help make healthcare available to more people in St. Louis. TCDC serves the North St. Louis community. They recently purchased and renovated an old school building to become office space for local non-profits, calling it, "The Hub". Because of our strong relationships with Mercy and TCDC, Mercy will be moving into The Hub to provide much-needed medical services to the community.